AZERBAIJANI PEDIATRIC ONCOLOGY DOCTOR AWARDED DOCTORATE IN BELARUS
AzerTAg.az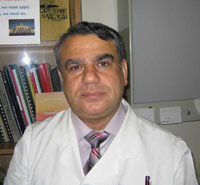 According to the State Committee for Working with Azerbaijanis living abroad, eminent pediatric oncology doctor Reyman Ismayilzadeh of Azerbaijani descent has earned a doctorate in Belarus
Azerbaijani embassy to Belarus and Congress of Azerbaijani Communities in Belarus co-hosted a function on this occasion. Speakers at the event praised Ismayilzadeh`s contribution to the world medicine.
Ismayilzadeh is a member of the World Pediatric Oncology Association and European Society for Hyperthermic Oncology
######
© Content from this site must be hyperlinked when used.
Report a mistake by marking it and pressing ctrl + enter
Other news in this section
Text contains orthographic mistake
Enter your note