Azerbaijan's MFA: Armenia has no moral right to talk about rights of internally displaced persons and refugees
AzerTAg.az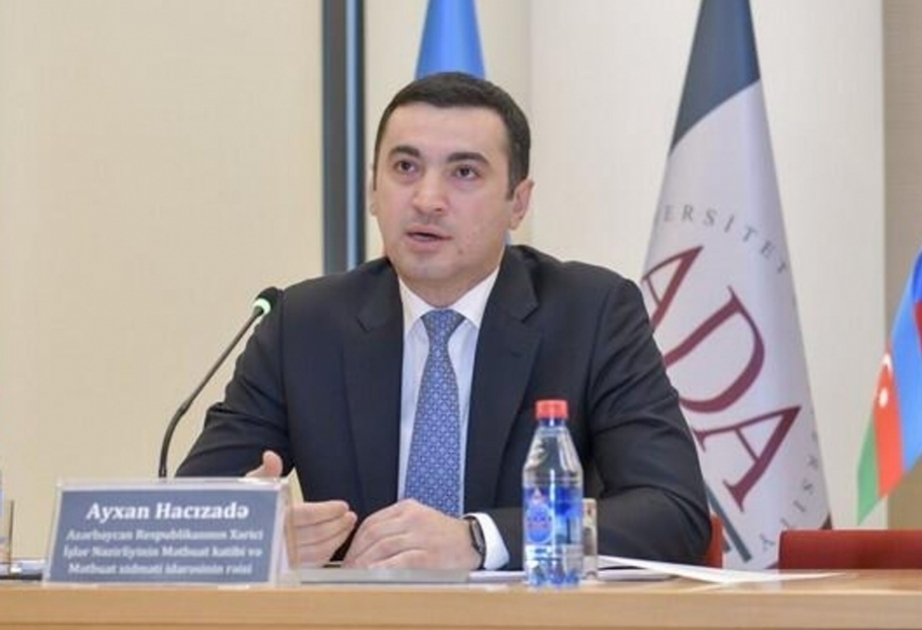 Baku, March 17, AZERTAC
"Armenia, which plundered 9 cities and hundreds of villages during nearly 30-year occupation period, carried out ethnic cleansing against almost 1 million Azerbaijanis, deprived them of the right to return to their homes, has no moral right to talk about the rights of internally displaced persons and refugees after Azerbaijan liberated its native lands and restored these territories," said head of the Press Service Department of Azerbaijan's Foreign Ministry Aykhan Hajizada as he commented on the fake and false statement of the Ministry of Foreign Affairs of Armenia against Azerbaijan on March 16.
"Azerbaijan is already taking steps towards the reintegration of Armenian residents living in its territory. Azerbaijan conducts a dialogue with Armenian residents and as a goodwill step has proposed to hold the next meeting in Baku. On the contrary, the Armenian side completely rejected the dialogue proposal of the Western Azerbaijan Community. This is an indication that Armenia is not interested in peace and stability in the region and is conducting a duplicitous policy.
Azerbaijani side will take all necessary steps within the framework of international law against any provocation by Armenia," Aykhan Hajizada added.
© Content from this site must be hyperlinked when used.
Report a mistake by marking it and pressing ctrl + enter
Other news in this section
Text contains orthographic mistake
Enter your note