Biden and Scholz meet amid debates over Ukraine aid
AzerTAg.az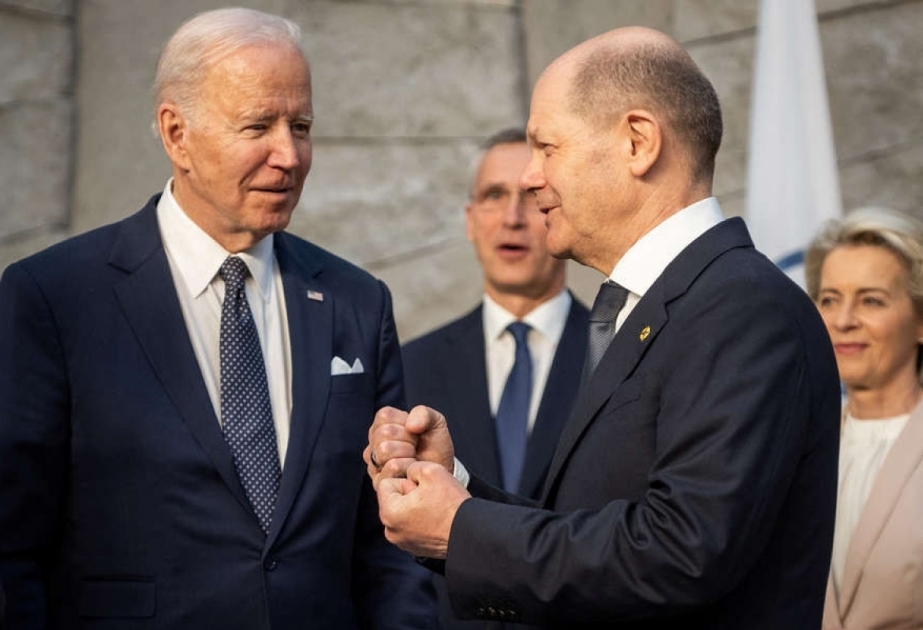 Baku, March 4 AZERTAC
President Biden and German Chancellor Olaf Scholz met at the White House on Friday, part of their ongoing effort to bolster the global coalition that is seeking to ensure a steady flow of assistance to war-battered Ukraine, according to washingtonpost.com.
The two leaders, who met just hours after the White House announced an additional $400 million in military aid, reaffirmed their support for Ukraine and said they were dedicated to continue supplying weaponry as the war enters its second year and some in their countries show signs of weariness with the continued conflict.
"I want to thank you all for your strong and steady leadership. I mean that sincerely. It's made a world of difference," Biden said. "You stepped up to provide critical military support, and, you know, I would argue that beyond your military support, the moral support you gave Ukrainians has been profound. It's been profound."
Biden alluded to some of the domestic political challenges in Germany as it ramps up its defense spending and seeks to diversify away from Russian energy sources, telling Scholz: "I know it's not been easy. Very difficult for you."
After the meeting, the White House said Biden and Scholz had "reiterated their commitment to impose costs on Russia for its aggression for as long as necessary" and that "the leaders also exchanged perspectives on other global issues."
The president also remarked that the last time the two of them met at the White House was a few weeks before the Russian invasion and they were trying to persuade Russian President Vladimir Putin to change course.
"We made it clear that if he moved, we would both respond," Biden said. "And together we made good on that promise."
Speaking in English, the German chancellor said he appreciated the chance to meet.
"This is a very, very important year because of the very dangerous threat to peace that comes from Russia invading Ukraine," he said.
Scholz said international unity was crucial when it comes to helping Ukraine, adding, "At this time I think it's very important that we give the message that we will continue to do so as long as it takes and as long as it is necessary."
The two leaders ignored questions shouted at them as reporters were ushered out of the room.
The United States earlier on Friday announced an additional $400 million in Ukraine assistance, mostly ammunition for High Mobility Artillery Rocket Systems (HIMARS launchers), Bradley fighting vehicles, demolition munitions and other equipment.
The announcement, less than two weeks after a $2 billion package was unveiled, brings the total U.S. military aid to more than $30 billion, including nearly $20 billion in direct shipments from Defense Department weaponry stocks and the rest in U.S.-funded contract purchases for Ukraine.
The hour-long meeting came not long after the leaders separately met with Ukrainian President Volodymyr Zelensky, who has been pressing Western leaders to send ever more sophisticated weaponry to his country. Biden met Zelensky during a surprise visit to Kyiv, while Scholz greeted him during a trip to Paris.
"The bulk of the meeting is going to focus on Ukraine," a senior administration official said before the meeting, speaking on the condition of anonymity to preview the private talks. "Both of the leaders wanted this to be a working-level meeting, wanted it to be very much a get-down-into-the-weeds focus on the issues of Ukraine."
Germany has been criticized for not doing more to arm Ukraine, including resisting a proposal to send additional tanks before ultimately acquiescing, but U.S. officials have sought to praise their NATO ally.
© Content from this site must be hyperlinked when used.
Report a mistake by marking it and pressing ctrl + enter
Other news in this section
Text contains orthographic mistake
Enter your note