FM Kairat Abdrakhmanov: Azerbaijan-Kazakhstan cooperation is based on historical friendship, mutual respect and confidence
AzerTAg.az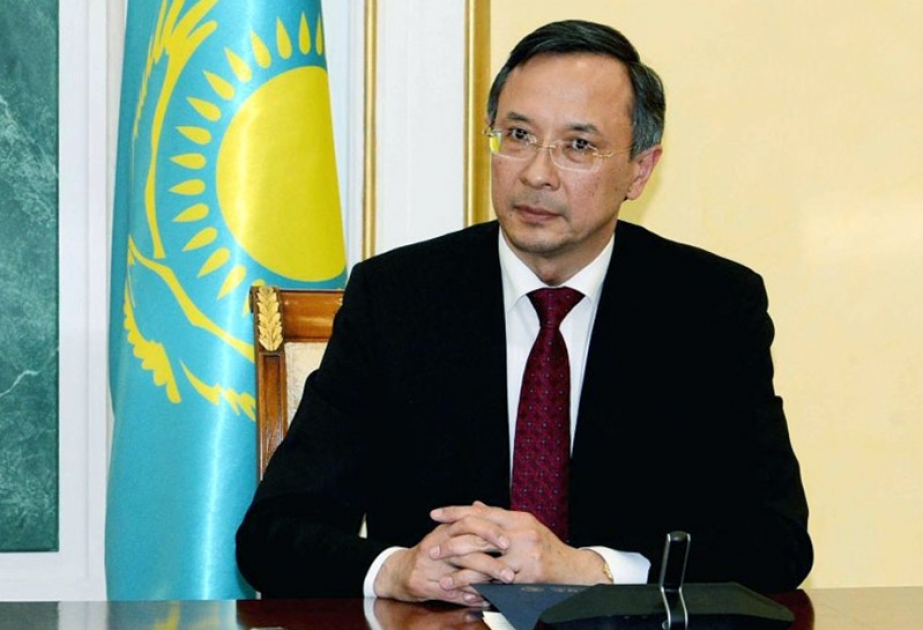 Baku, August 31, AZERTAC
Foreign Minister of the Republic of Azerbaijan Elmar Mammadyarov and Minister of Foreign Affairs of the Republic of Kazakhstan Kairat Abdrakhmanov had an exchange of congratulatory letters on the occasion of the 25th anniversary of the establishment of diplomatic relations between the two countries.
In the letter addressed to his counterpart Foreign Minister Elmar Mammadyarov said that deep historical and cultural-moral relations, mutual respect and long lasting friendship of the two countries constitute the basis for the high level cooperation. Furthermore, the Minister mentioned that bilateral relations encompassing all fields serves to the development of mutually beneficial cooperation.
Minister Elmar Mammadyarov pointed out that the main decisions on further development of cooperation were made during the visit of President of the Republic of Kazakstan Nursultan Nazarbayev to Azerbaijan this year and his meeting with President of Republic of Azerbaijan Ilham Aliyev. The FM expressed his confidence that diplomatic activity focused on implementation of abovementioned decisions will be continued successfully and effectively during the upcoming years.
Elmar Mammadyarov highly appreciated Kazakhstan's support to Azerbaijan's fair position on the settlement of the Armenia-Azerbaijan Nagorno-Karabakh conflict on the basis of sovereignty, territorial integrity and inviolability of internationally recognized borders in bilateral and multilateral levels.
Minister of Foreign Affairs of the Republic of Kazakhstan Kairat Abdrakhmanov in the letter addressed to Elmar Mammadyarov said that over passed period high level political dialogue, traditional respect and atmosphere of mutual confidence based on the historical friendship between the two countries are the main achievements of Azerbaijan-Kazakhstan cooperation.
Kairat Abdrakhmanov mentioned that the mutual contacts between two countries in all levels led to the development of multilateral cooperation. In this respect, the Minister pointed out that within the framework of the official visit of President of Kazakhstan Nursultan Nazarbayev to Azerbaijan this April the main issues on the agenda of bilateral relations were discussed. He added that the implementation of these decisions will give further impetus to the future development of strategical partnership.
© Content from this site must be hyperlinked when used.
Report a mistake by marking it and pressing ctrl + enter
Other news in this section
Text contains orthographic mistake
Enter your note