Serbian president holds talks with EU, US officials on de-escalation with Kosovo
AzerTAg.az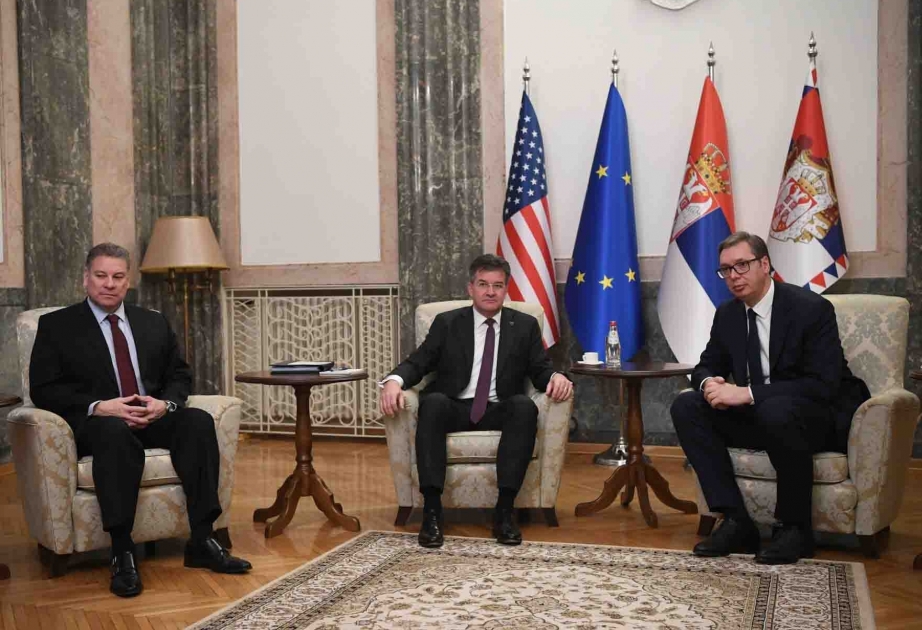 Baku, December 15, AZERTAC
Serbian President Aleksandar Vucic met Wednesday with officials from the European Union and US on tensions in the north of Kosovo, according to Anadolu Agency.
Miroslav Lajcak, the EU special envoy for the Belgrade-Pristina dialogue, and US Special Envoy Gabriel Escobar arrived in the capital Belgrade from Kosovo's capital Pristina to discuss the de-escalation of tensions in the region with Vucic.
Vucic later said on social media that they had "correct and sincere" talks.
Lajcak said they discussed the removal of the barricades erected by Serbs in Kosovo.
"We had an open and honest conversation on the political solution to remove the barricades and de-escalate the tension. He (Vucic) is aware of the seriousness of the situation,'' said Lajcak.
Escobar said the US "categorically rejects the return of the Serbian Army to the north of Kosovo."
"This would militarize the problem. We are in favor of dialogue. The barricades should be peacefully removed by the people who put them up and their concerns should be listened to,'' he said.
Serbs in northern Kosovo blocked main roads to protest the arrest on suspicion of terrorism of former Serb police officer Dejan Pantic, who was part of a mass resignation of Serbs from the security forces in November.
© Content from this site must be hyperlinked when used.
Report a mistake by marking it and pressing ctrl + enter
Other news in this section
Text contains orthographic mistake
Enter your note