CULTURE
Japanese artist`s work presented at Heydar Aliyev Centre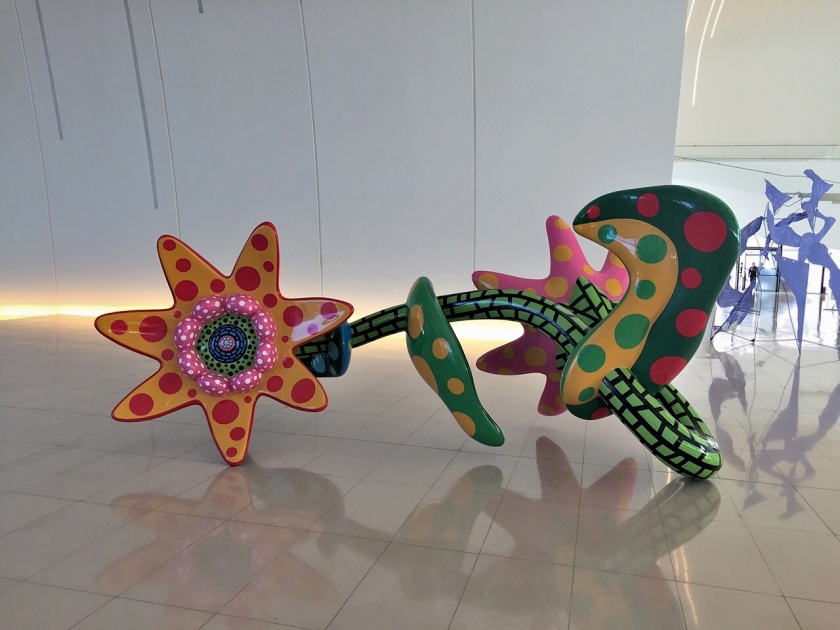 Baku, April 4, AZERTAC
Japanese artist and writer Yayoi Kusama`s work "Flowers that Blossom Tomorrow" has been presented at the Heydar Aliyev Centre. Throughout her career Kusama has worked in a wide variety of media, including painting, collage, sculpture, performance art, and environmental installations, most of which exhibit her thematic interest in psychedelic colors, repetition and pattern. A precursor of the pop art, minimalist and feminist art movements, Kusama influenced contemporaries such as Andy Warhol and Claes Oldenburg. Although largely forgotten after departing the New York art scene in the early 1970s, Kusama is now acknowledged as one of the most important living artists to come out of Japan, and an important voice of the avant-garde.
Kusama's work is based in conceptual art and shows some attributes of feminism, minimalism, surrealism, Art Brut, pop art, and abstract expressionism, and is infused with autobiographical, psychological, and sexual content. Kusama is also a published novelist and poet, and has created notable work in film and fashion design. Major retrospectives of her work have been held at the Museum of Modern Art in 1998, the Whitney Museum in 2012, and Tate Modern in 2012. In 2008, Christies New York sold a work by her for $5.1 million, then a record for a living female artist.
Kusama has received numerous awards, including the Asahi Prize (2001); Ordre des Arts et des Lettres (2003); and the National Lifetime Achievement Awards, the Order of the Rising Sun (2006). In October 2006, Yayoi Kusama became the first Japanese woman to receive the Praemium Imperiale, one of Japan's most prestigious prizes for internationally recognized artists. Also she received the Person of Cultural Merit (2009) and Ango awards.
Other news in this section