SPORTS
Budapest hosts presentation of Baku 2015 first European Games
VIDEO
Budapest, February 21, AZERTAC
A presentation of the Baku 2015 first European Games has been held at the Vigado concert hall, located on the Eastern bank of the Danube, Budapest.
The ceremony, which was organized by the Heydar Aliyev Foundation in partnership with Azerbaijan`s Embassy in Budapest, brought together Hungarian Minister of Human Resources Zoltan Balog, Mayor of Budapest Istvan Tarlos, executive director of the Heydar Aliyev Foundation Anar Alakbarov, Azerbaijan`s Minister of Youth and Sport Azad Rahimov, as well as MPs, representatives of embassies accredited in Budapest, Hungarian sports veterans, sportsmen who will compete at the Games and Azerbaijanis living and working in Hungary.
Prior to the presentation ceremony, Azerbaijan`s Minister of Youth and Sport Azad Rahimov, Ambassador Vilayat Guliyev and director for sport issues of Hungarian Olympic Committee Laszlo Fabian held a joint press conference.
Following the short presentation of the Baku-2015 European Games, they responded to journalists` questions, particularly about preparations for the Baku Games.
Laszlo Fabian expressed confidence the European Games would be excellently organized.
Minister Azad Rahimov was interviewed by a number of TV channels.
During the official part, the host of the ceremony highlighted the relations between Azerbaijan and Hungary, and stressed the efforts of the Heydar Aliyev Foundation and its president Mehriban Aliyeva towards protecting cultural heritage inside and beyond the country, promoting intercultural dialogue and ensuring opportunities for youth to study abroad.
Minister Rahimov spoke of international sport competitions that Azerbaijan would host in the next few years. Speaking on the first European Games, the Minister underlined the importance of the Games for Azerbaijan, and its contribution to sport life in whole Europe. He also touched upon the activity of the Baku-2015 first European Games Organizing Committee chaired by Azerbaijan`s first lady Mehriban Aliyeva.
Zoltan Balog lauded Azerbaijani President Ilham Aliyev`s supporting the Games.
The event featured demonstration of a film on preparations for the European Games, a reception and concert of Azerbaijani music.
Igbal Hajıyev
Special Correspondent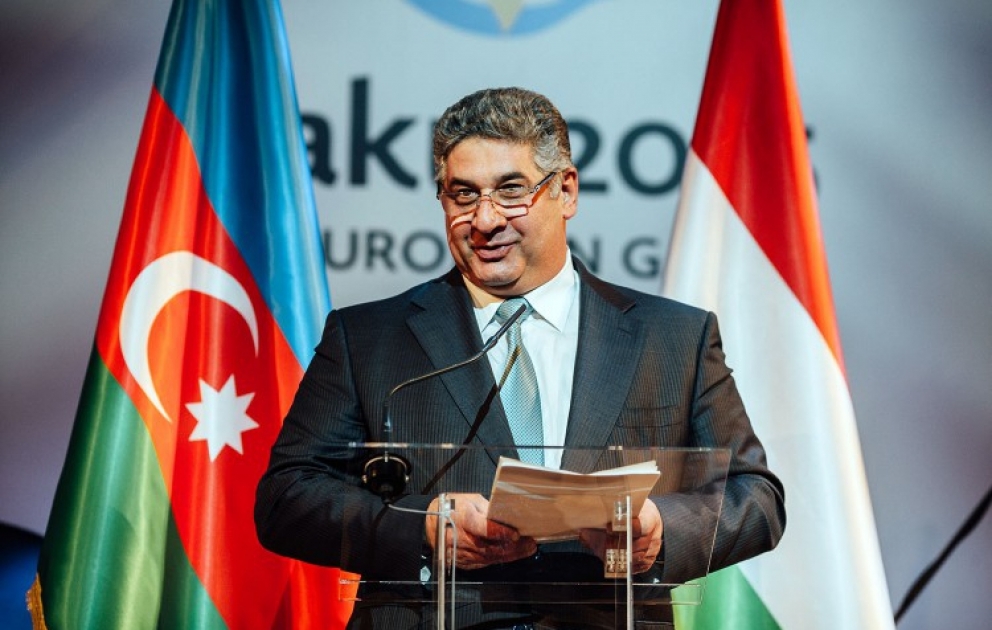 Other news in this section