WORLD
Chinese farmers hit by floods and drought say extreme weather is getting worse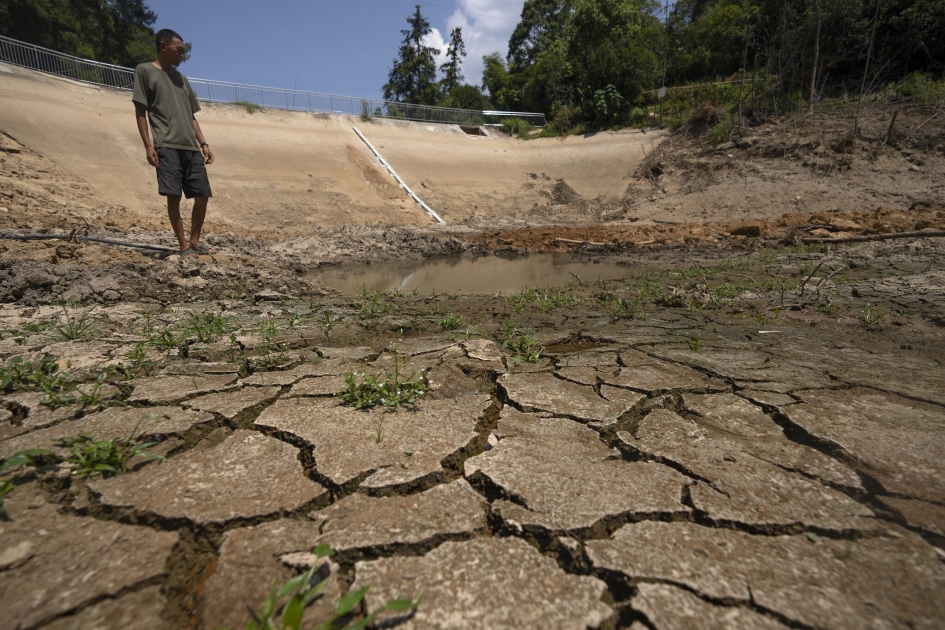 Baku, August 10, AZERTAC
First, temperatures soared for weeks on end, baking the Chinese capital in triple-digit heat. A month later, flooding from Beijing's worst storm in 140 years killed at least 20 people in and around the city, NBC news reported.
Summer in China so far has been a season of extremes, with the country lurching between stifling, unrelenting heat and heavy, monsoonal rainfall.
The Chinese Ministry of Emergency Management said Friday that 147 people were dead or missing because of natural disasters in July.
The bouts of extreme weather have taken a toll not just on China's 1.4 billion population but also on the size of harvests in the world's biggest food-producing country.
As the world warms, extreme events like those unfolding in China — and in the U.S. and other countries — are expected to become more common. With that prospect comes the worrying potential for widespread crop failures in major food-producing regions.
Most of China's farming regions are under the monsoon influence, making them susceptible to meteorological disasters such as floods and drought. Farmers say the situation is getting worse as extreme weather events occur more often.
Flooding in Chongqing, a metropolis in China's southwest almost 1,000 miles from Beijing, is not unprecedented in summer. But the intensity of the flooding in July prompted the country's highest emergency alert as it killed at least 15 people, affected more than 13,000 others and damaged tens of thousands of acres of crops, including rice and corn.
Ran Chaoyin, a Chongqing farmer in his 30s, said only about one-fifth of the 1.3 acres of corn he had planted survived the deluge.
"I've worked as a farmer all my life, and this is not the first time I've had damage from floods," he said. "But the damage this year is the worst."
Ran also experienced extreme weather last summer, as persistent heat and drought swept through a large swath of southern China, almost drying up the country's largest freshwater lake and taking a huge toll on crop yields.
"The drought here was very bad last year," he said. "The crops almost reached harvest time and then they all dried up."
Unexpected torrential rainfall hit the central province of Henan, China's top wheat producer, right before harvest time in May. The prolonged downpours flooded wheat fields, causing pre-harvest sprouting and blight.
Wang Guirong, the director of the rural division of China's National Bureau of Statistics, said last month that summer grain yield had fallen 0.9% compared with last year, the first such decrease in years, though he said the 146 million tons were still a "bumper harvest." He said continuous rainfall in the northern wheat region, including Henan province, was to blame.
The opposite is happening in some parts of northern China, which have been gripped by scorching heat this summer. The record temperatures and dry spell have compromised the quality and quantity of crops suitable for harvest and sowing in summer, which is an important season for agriculture in those areas.
"A slight reduction in production will not have a major impact on the grain market," Pan Wenbo, the director general of the ministry's crop production department, said July 21. "The current market price of wheat is also basically stable."
The extreme weather in China, the world's top greenhouse gas emitter, was on display last month as U.S. climate envoy John Kerry arrived in Beijing the day China's hottest-ever temperature — 126 degrees — was recorded in the western region of Xinjiang. Kerry's visit restarted U.S.-China climate talks that had been suspended since last year but did not produce any breakthroughs.
As the planet warms, China's droughts and floods will become more frequent and intense, said Liu Junyan, the manager of the climate and energy program at Greenpeace East Asia.
"Drought will dry up crops in their key growing period," Liu said. "Flooding will not always cause 100% damage to the crops because it will recede, but the impact will last longer if it's compounded by mudslides."
The extreme weather events lashing China this summer are in line with what scientists have predicted if global warming continues unchecked.
Prolonged heat waves, severe storms, intense flooding and widespread drought are all becoming part of the "new normal" of climate change, said Cascade Tuholske, an assistant professor of climate change, urbanization and food security at Montana State University.
Extreme weather events around the world are expected to be worsened by the return this spring of El Niño, a naturally occurring climate pattern. El Niño conditions are characterized by changes in the strength or direction of trade winds that cause waters in the central and eastern tropical Pacific Ocean to become warmer than usual. The shifts typically have significant and far-ranging effects on global temperatures, rainfall patterns and severe storm systems.
Rising global temperatures could also change the agricultural landscape in China, as some crops grown mainly in southern China move northward, Liu said.
In addition to being the world's biggest food producer, China is also the biggest food importer, with key imports including soybean, corn, wheat and sorghum. The country imported more than 140 million tons of grains last year, which was equal to 21% of its annual domestic grain production.
China has increasingly turned to countries such as Brazil and Argentina for food imports amid tensions with the U.S., which was its biggest agricultural supplier before a trade war began in 2018.
Faced with global uncertainties, China has in recent years been ramping up efforts to ensure food security, striving to increase crop yields and carrying out a high-profile campaign against food waste.
But extreme weather is a wild card for agriculture and a headache for farmers, who are very dependent on climate.
"The drought in my area used to happen every eight to 10 years," Chen said. "But it happened in 2021 and 2023. Too close.
"The future is hard to predict for us," he added. "Many of us don't dare to contract land anymore."
Other news in this section