Plane with 72 people on board crashes in Nepal
VIDEO
AzerTAg.az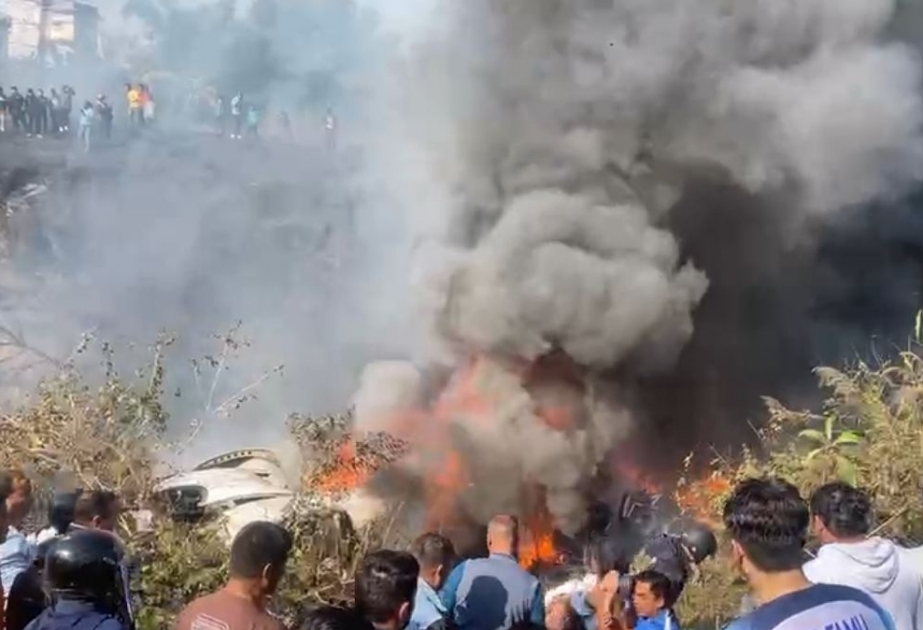 Baku, January 15, AZERTAC
At least 16 people have been killed after an aircraft carrying 72 people crashed in Nepal, according to Al Jazeera.
The plane crashed on Sunday between the old and new Pokhara airports in central Nepal, according to media reports.
There were 72 people on the twin-engine ATR 72 aircraft operated by Nepal's Yeti Airlines, including two infants, four crew members and 10 foreign nationals, said airline spokesman Sudarshan Bartaula.
"We expect to recover more bodies," an army spokesman Krishna Bhandari told Reuters news agency.
Prime Minister Pushpa Kamal Dahal said the plane was flying from Kathmandu to Pokhara, and urged security personnel and the general public to help with the rescue efforts.
Pokhara is a bustling tourist town about 200km (124 miles) west of capital Kathmandu.
Local television showed thick black smoke billowing from the crash site as rescue workers and crowds of people gathered around the wreckage of the aircraft.
"Responders have already reached there and trying to douse the fire. All agencies are now focused on first dousing the fire and rescuing the passengers," local official Gurudutta Dhakal said.
It was the deadliest crash in Nepal since 1992, the Aviation Safety Network database showed, when a Pakistan International Airlines Airbus A300 crashed into a hillside upon approach to Kathmandu.
In May, a plane owned by Tara Air crashed less than 20 minutes after taking off from Pokhara, headed to Jomsom – a popular trekking and pilgrimage destination in Mustang district bordering Tibet.
© Content from this site must be hyperlinked when used.
Report a mistake by marking it and pressing ctrl + enter
Other news in this section
Text contains orthographic mistake
Enter your note