CULTURE
Tourism portal of Arab countries highlights Azerbaijan`s tourism potential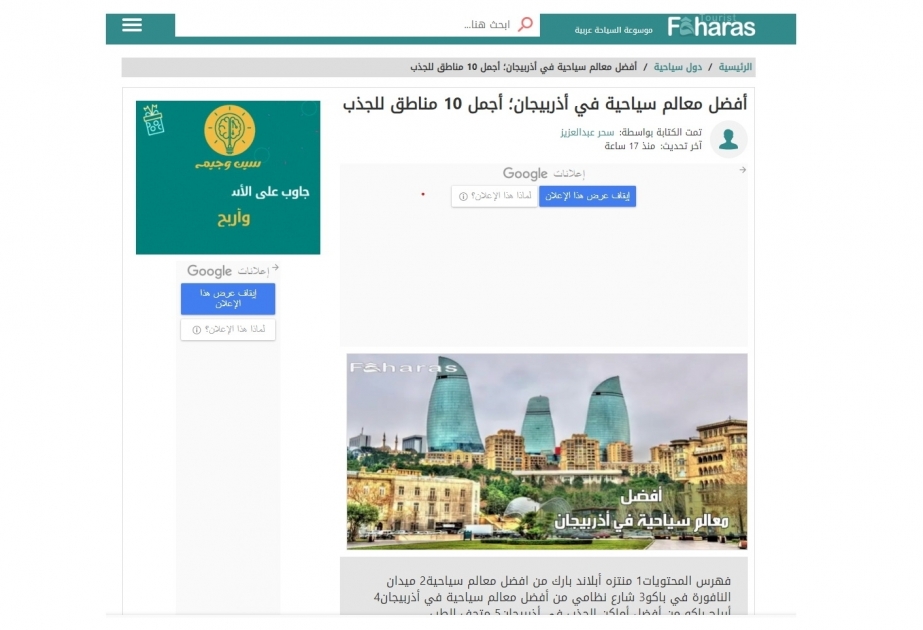 Baku, July 10, AZERTAC
The tourism portal of Arab countries "Tourist.Faharas" has posted articles and photos highlighting Azerbaijan's tourism potential headlined "10 best places to visit in Azerbaijan".
The author noted that Icherisheher, which has an ancient history, is the favorite place of foreign tourists. The article drew the readers` attention to the rare historical-architectural monuments of different centuries here which are preserved as a valuable treasure of the Azerbaijani people, saying that the Icherisheher State Historical and Architectural Reserve has been included in the UNESCO World Heritage List.
The article also provides detailed information about the Seaside Boulevard, Nizami Street, which is a favorite place for tourists, as well as "Flame Towers", one of the symbols of modern Baku, the Palace of Shirvanshahs, National Museum of Azerbaijan History, Maiden Tower and the Museum of Miniature Books.
The Arab readers were also informed about the regions of Azerbaijan.
Other news in this section