CULTURE
Young Azerbaijani artist wins International painting contest in Bulgaria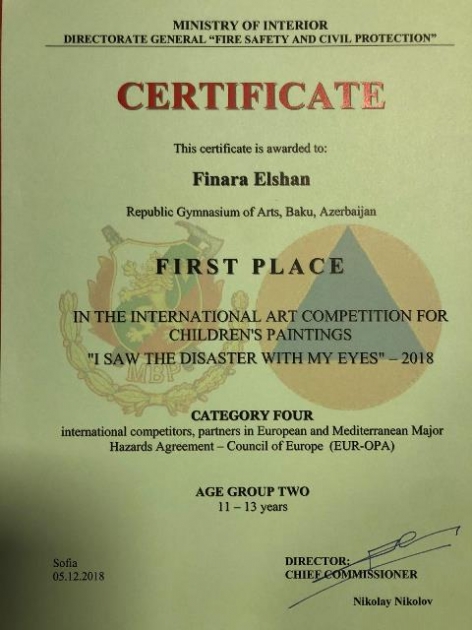 Baku, December 10, AZERTAC
Two young Azerbaijani artists, including Finara Nazarova, student of the Republic Gymnasium of Art and Fidan Kabirlinskaya, student of the Child and Youth Development Center No. 3, were awarded the first place certificate and special award of the International Art Competition, respectively, in Sofia, Bulgaria.
The competition for Children`s Paintings on the theme "I saw the disaster with my eyes-2018" was co-organized by DG Fire Safety and Civil Protection, Bulgarian Ministry of Interior together with the Ministry of Education and Science and the National Palace of Children. The International Competition, conducted under the auspices of the EUR-OPA Major Hazards Agreement to the Council of Europe, was open to children between the ages of 6 and 18.
The objectives of the competition was to encourage the talent and way of thinking of children and teenagers towards survival, friendship and solidarity in times of disaster and in everyday life.
Pictures illustrated natural and man-made disasters: floods, droughts, hail storms, tornadoes, fires, environmental accidents, war conflicts, rescue operations, self-help and solidarity, etc.
Along with Azerbaijan, the competition gathered together students from Greece, Iraq, Iran, China, Serbia, the Philippines and others.
Other news in this section