ECONOMY
Kazakh First Deputy Prime Minister visits Baku International Sea Trade Port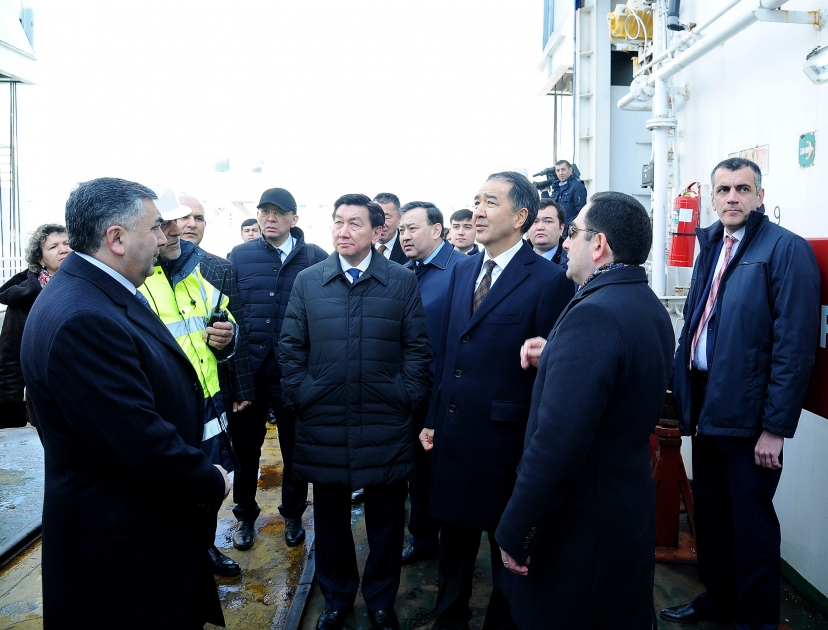 Baku, February 16, AZERTAC
A delegation of Kazakhstan led by the First Deputy Prime Minister Bakhytzhan Sagintayev toured the Baku International Sea Trade Port on Tuesday.
The delegation viewed the scheme of freights transit from the Baku Port, the work of customs point and the vessel-ferry "Academician Zarifa Aliyeva".
Director General of the Port Taleh Ziyadov and First Deputy Prime Minister of Kazakhstan Bakytzhan Sagintayev discussed cooperation between Azerbaijan and Kazakhstan in the field of transportation. They pointed out the positive results of the memorandum of understanding signed by the two countries.
The Kazakh deputy Prime Minister familiarized himself with the work of the Baku port. Taleh Ziyadov stressed the importance of the free trade zone to be set up on the territory of the new port, saying it will stimulate the development of non-oil sector.
Under the instructions of Azerbaijani President Ilham Aliyev, the Baku has taken measures to create favorable conditions for trucks and to facilitate the procedure of passage of transit cargo through the country. In order to prevent delays, preliminary online registration and ticket office system was introduced along with other innovations, which dramatically simplified the transmission and loading procedure.
Other news in this section