WORLD
Scientists find evidence for biggest earthquake in human history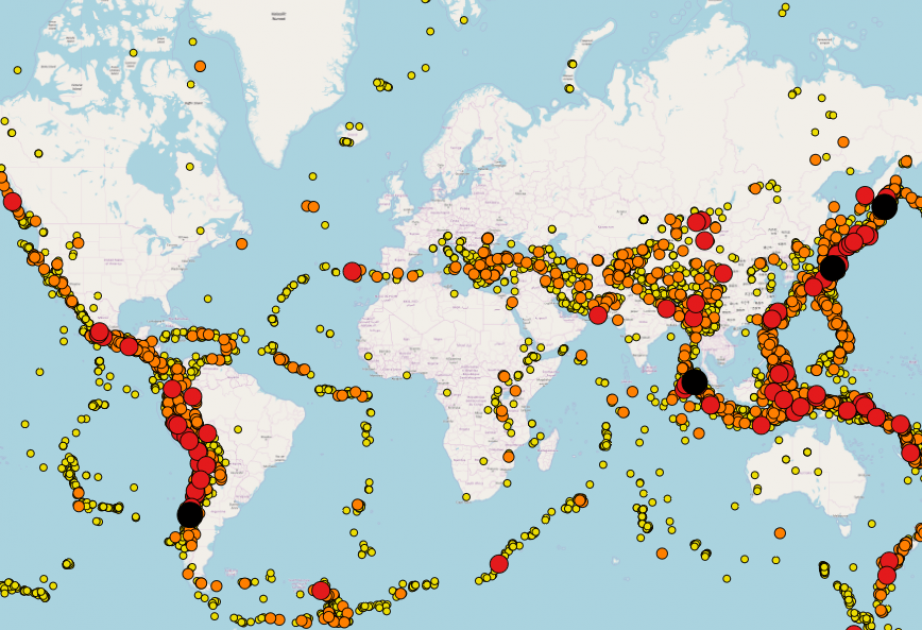 Baku, April 21, AZERTAC
Archaeologists have found evidence of the largest known earthquake in human history — a terrifying magnitude-9.5 megaquake that caused a 5,000-mile-long (8,000 kilometers) tsunami and prompted human populations to abandon nearby coastlines for 1,000 years, a new study finds, according to Live Science.
The earthquake struck about 3,800 years ago in what is now northern Chile when a tectonic plate rupture lifted the region's coastline. The subsequent tsunami was so powerful, it created waves as high as 66 feet (20 meters) and traveled all the way to New Zealand, where it hurled car-size boulders hundreds of miles inland, the researchers found.
Until now, the largest earthquake ever recorded was the 1960 Valdivia earthquake, which hit southern Chile with a magnitude between 9.4 and 9.6, killing up to 6,000 people and sending tsunamis barreling across the Pacific Ocean. The rupture that caused the Valdivia earthquake was enormous, extending as far as 500 miles (800 km) in length. But, as scientists detail in research published April 6 in the journal Science Advances, the newly discovered ancient megaquake was even bigger, coming from a rupture roughly 620 miles (1,000 km) long.
"It had been thought that there could not be an event of that size in the north of the country simply because you could not get a long enough rupture," study co-author James Goff, a geologist at the University of Southampton in England, said in a statement.
Like the Valdivia earthquake, the ancient quake was a megathrust earthquake, the most powerful type of earthquake in the world. These earthquakes occur when one of Earth's tectonic plates gets forced, or subducted, underneath another. The two plates eventually get locked into place by friction, but the forces that caused the plates to collide continue to build. Eventually, so much strain gathers that the point of contact between the plates rips apart, creating a gigantic rupture and releasing energy in the form of devastating seismic waves.
Evidence for the giant quake was found in marine and coastal items — such as littoral deposits (boulders, pebbles and sand native to coastal regions) and marine rocks, shells and sea life — that the researchers discovered displaced far inland in Chile's Atacama Desert.
Other news in this section