POLITICS
Ambassador Rodrigo Arcos: AZERTAC provides important information support for development of Azerbaijan-Chile relations
VIDEO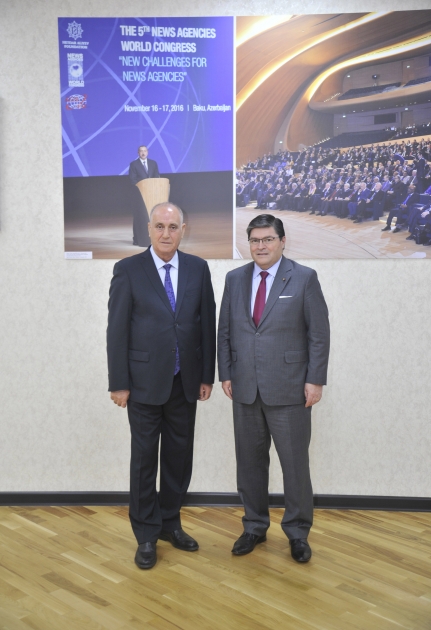 Baku, June 7, AZERTAC
"AZERTAC provides important information support for the development of relations between Azerbaijan and Chile. We highly appreciate it," said non-resident Ambassador of Chile accredited to Azerbaijan Rodrigo Arcos as he met with Chairman of the Board of AZERTAC Aslan Aslanov.
Saying that AZERTAC attaches great importance to the dissemination of news in Spanish, Aslan Aslanov noted that one of the priorities of the agency is to better introduce Azerbaijan to the Spanish-speaking audience, as well as to deliver news from Spanish-speaking countries to local audiences. Aslan Aslanov underlined that AZERTAC has partnerships with leading news agencies of a number of Spanish-speaking countries, including EFE (Spain), Telam (Argentina), IP (Uruguay) and Prensa Latina (Cuba).
"We are currently working to build cooperation with the Chilean media and hope for a positive result in the near future," he said.
Ambassador Rodrigo Arcos underlined that due to the activities of AZERTAC, extensive information about the history, culture and nature of Chile is disseminated in Azerbaijan. Stressing that this is a great contribution to the closer acquaintance of the two countries` peoples, the diplomat said he was ready to support AZERTAC in establishing mutually beneficial relations with the Chilean media.
The sides also exchanged views on information support for the events to be held in 2023 on the occasion of the 30th anniversary of the establishment of diplomatic relations between Azerbaijan and Chile, the implementation of joint projects, as well as ways to combat fake news, media development and other issues of mutual interest.
Chargé d'Affaires of Chile to Azerbaijan Coloma Grimberg was also present at the meeting.
Other news in this section