POLITICS
'Switzerland is ready to contribute to the peace process between Azerbaijan and Armenia'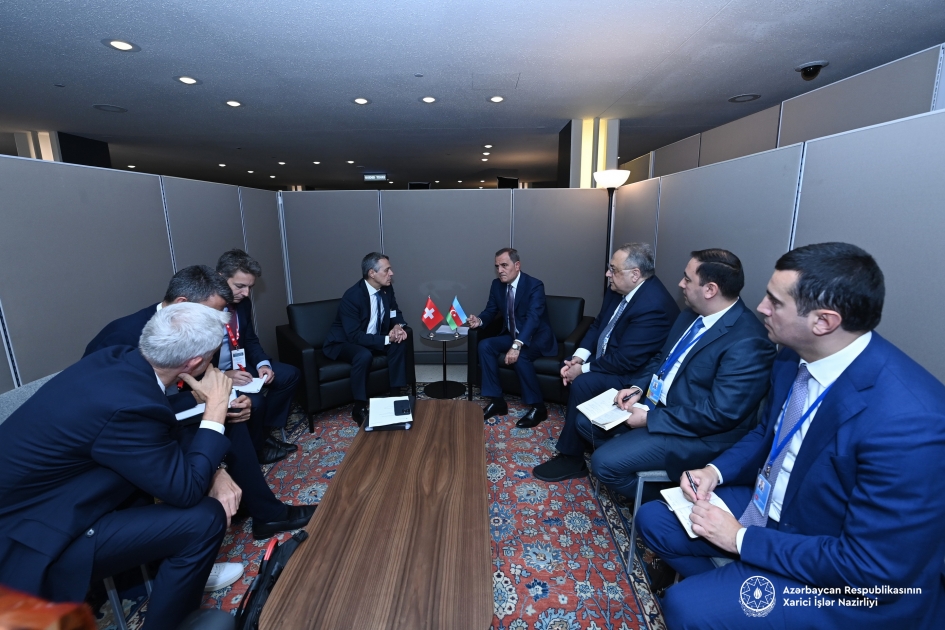 Baku, September 20, AZERTAC
Azerbaijan's Minister of Foreign Affairs Jeyhun Bayramov has met with Head of the Federal Department of Foreign Affairs of the Swiss Confederation Ignazio Cassis on the sidelines of the 78th Session of the UN General Assembly.
Noting that the process of normalization of relations between Azerbaijan and Armenia faces serious challenges, Minister Jeyhun Bayramov highlighted the latest developments taking place in the region.
He drew Ignazio Cassis' attention to the anti-terror measures launched by Azerbaijan on September 19, in response to a number of large-scale military provocations and terrorist attacks by the Armenian armed forces in the Karabakh region of Azerbaijan.
FM Bayramov noted that local anti-terror measures had been launched in the region to prevent such large-scale provocations, ensure the implementation of the provisions of the Trilateral Statement, as well as the withdrawal of units of the armed forces of Armenia from the territories of Azerbaijan, and restore the constitutional order of the Republic of Azerbaijan.
Noting that Armenia is conducting a smear campaign against Azerbaijan by spreading false and baseless claims about the existence of a "blockade" and a "humanitarian crisis" in the region in order to abuse individual states and international organizations, the minister underlined that Armenia is trying to maintain separatism in the territory of Azerbaijan by all possible ideological, political, military, financial and other means.
Ignazio Cassis emphasized that Switzerland is ready to contribute to the peace process between Azerbaijan and Armenia based on the principles of neutrality.
During the meeting, the sides also exchanged view on other issues of mutual interest.
Other news in this section