CULTURE
UNESCO hosts Novruz celebrations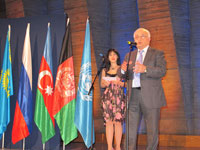 Paris, March 27 (AZERTAC). The Novruz celebration was organized by the Azerbaijan`s mission to the UNESCO at the organization`s headquarters.
Speaking at the event, Deputy Premier of Azerbaijan Elchin Efendiyev said the Novruz is marked as a national holiday by Azerbaijan, Turkey, Tatarstan, Bashkortostan as well as Afghanistan, Iran, Pakistan and Central Asian nations.
According to him, European integration has always been part of foreign and domestic policy of national leader Heydar Aliyev and President Ilham Aliyev who successfully continues this policy. He pointed out President of the Heydar Aliyev Foundation, UNESCO and ISESCO goodwill ambassador Mehriban Aliyeva does much work to educate world community about Azerbaijan.
The celebration was attended by French officials, MPs, UNESCO representatives, ambassadors including Azeri ambassador to France and others.
######
Other news in this section